Welcome !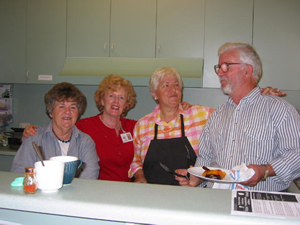 Welcome to PSP Australia. This website provides information for anyone affected by Progressive Supranuclear Palsy (PSP for short), including people diagnosed, their family members, friends and carers, as well as health professionals.


PSP is a rare neurological condition affecting the parts of the brain that control walking, eye movements, balance, speech and swallowing. Symptoms can be managed with a range of therapies and treatments, but symptoms become progressively worse over time. There are currently around 1300 Australians diagnosed with PSP, although many others may have the condition but are wrongly diagnosed with a similar condition.

PSP Australia is a group of people with personal experience of living with this condition. We understand that having clear, accurate information can really help to make the most of living with PSP.


PSP information and support is available by contacting Parkinson's Australia on 1800 644 189.

---
A FUNDRAISING DINNER FOR PARKINSON'S RESEARCH
The Rotary Clubs of Huntingdale and Clayton are hosting a fundraising dinner supporting Parkinson's research on 17 July 2015.
This fundraising dinner will help increase awareness of Parkinson's and raise funds for an annual Parkinson's Research Fellowship.
Guests will hear from two talented and esteemed Parkinson's neurologists, Associate Professor David Williams and Dr Kelly Bartram. Both have extensive experience working with people who have Atypical Parkinson's such as Progressive Supra-Nuclear Palsy (PSP), Cortical Basal Syndrome (CBS) and Multiple System Atrophy (MSA).
This uplifiting night will include a two course dinner with drinks.
When: Friday 17 July
Where: Huntingdale Golf Club, Windsor Avenue, South Oakleigh
Dress Code: Lounge Suit
Tickets: $125 per person
RSVP: Friday 10 July
Book your tickets online (http://www.trybooking.com/HLSY) today or phone Parkinson's Victoria on (03) 9581 8700